College of Design honors student solutions during Dean's Charrette
By Gabby Lucas, Student Innovation Center Media Intern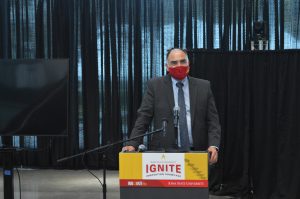 The Iowa State University College of Design's annual charrette competition, held during the 2021 Ignite Innovation Showcase on April 16-23, offered students an opportunity to develop design strategies for vital changes to Iowa State's campus.
More than 40 students representing each of the undergraduate colleges and every department in the College of Design participated in the virtual charrette competition. Titled "The Future of [Design] Education: Places of Learning," the challenge issued by Dean Luis Rico-Gutierrez asked students to continue the civic debate on higher education through the innovative lens of a post-COVID-19 era.
Over the course of the week, interdisciplinary student teams talked through, collaborated, defined and reframed the challenge before presenting their solutions for reimagining equitable, accessible and inclusive places of learning. Students were asked to explore solutions to questions including:
How might we reframe learning spaces, places and practices in our college communities in the post-pandemic era?
How might we investigate, co-create and locate places that can reconnect people and enhance collective well-being, teaching and learning?
How might we make learning universal to all [design] students and reimagine our spaces to create equitable, accessible and inclusive places of learning?
Teams were then honored during an awards ceremony on the final day of the Ignite Innovation Showcase, April 23.
"The brief that was given by Dean Luis was to investigate the definition of learning places for our new moment … as we return with the lessons that we've learned from the COVID-19 pandemic," said Jonathan Kaye, a fourth-year architecture student who was part of the charrette's winning team. "What kind of things do these spaces need to be able to accomplish? How do they serve us and begin to make our moment better?"
Kaye said for his team — also comprising of students Annaka Ketterer, Rachel Shannon and Harry Smith — to win the charrette was humbling and gratifying because of how hard all the participants worked. While watching his classmates create, he found the topic of mental health to be "the central focus."
"Each of the groups were presenting that really intuitive and great perspective on what it means to be a student from these different walks of life in the College of Design," Kaye said. "They really offered an idea of different frameworks, digital platforms in physical areas to redefine what it means to be a student at Iowa State, what it means to redefine how we care for our mental health and make it an important part of … the way that we're living."
Kaye encourages students across all majors to participate in their colleges' respective innovation projects.
"The campus gets better when you share your ideas," Kaye said. "I'd encourage anyone to continue to be inspired by Iowa State and then share that inspiration of others so that we can continue this cycle of feeding into one another."