Record your creativity
It's lights, camera, action in the Digital Media Studio. The large video and photography studio includes a white cyclorama, a small audio recording/podcasting studio, a one-button recording studio, and editing computers to bring your vision to life. Whether you're an aspiring podcaster in need of professional headshots, or making your next presentation shine, all students, faculty, and staff are invited to create in the studio.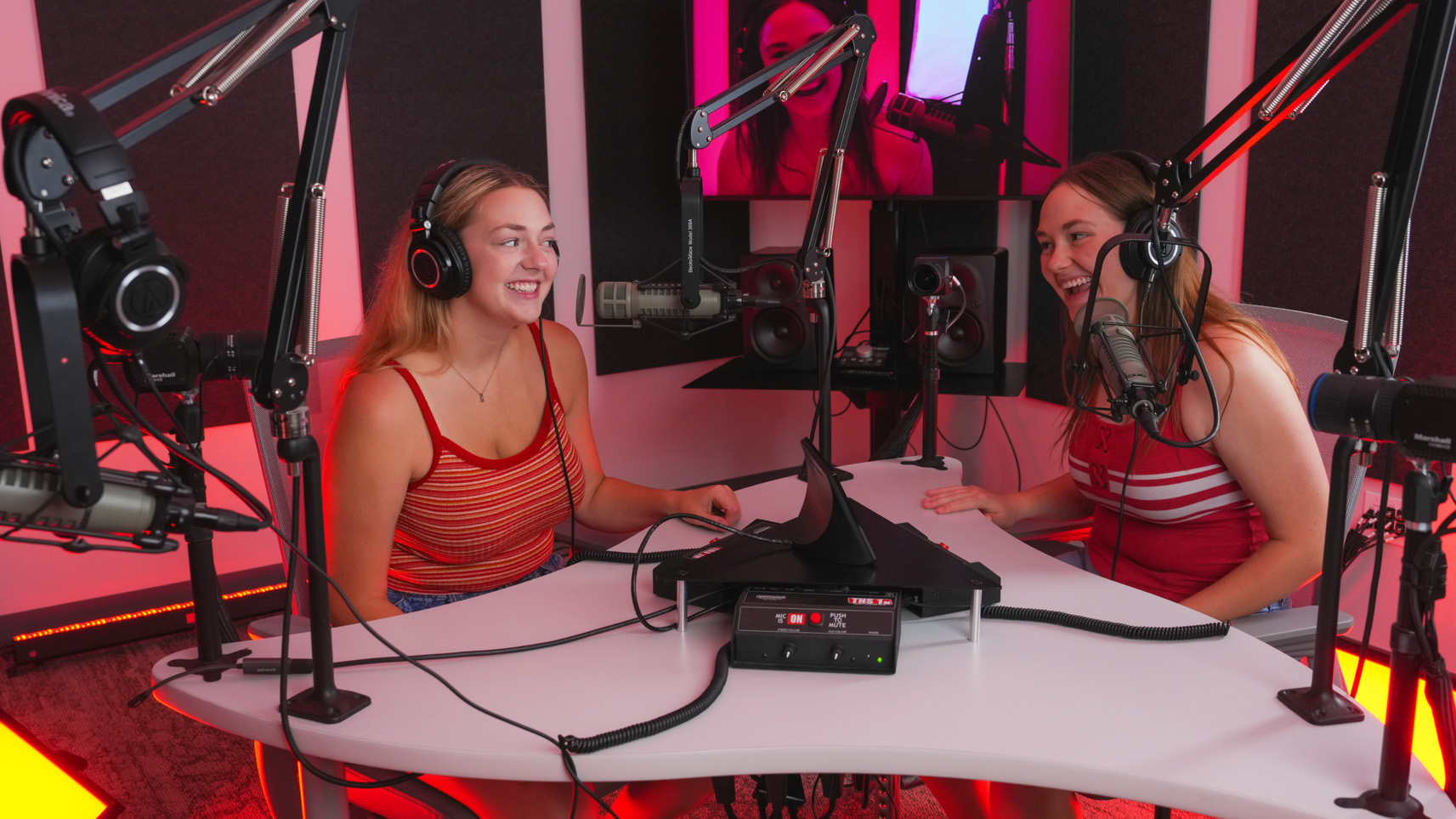 Operating hours
The Digital Media Studio is open 9 a.m to 8 p.m. daily and closed on university holidays. Makerspaces are closed from noon to 12:30 p.m. daily. Hours are subject to change.
Equipped with a white cyclorama background, customizable lighting grid, reflecta green screen, traditional green screen, broadcast camera, and professional photography equipment. Ideal for a wide range of creative projects, from photography and videography to green screen productions and more.
Blackmagic URSA Broadcast G2 Studio Cameras (4)
Libec Rolling Pedestal Dolly (4)
Stage Lighting: (5) Gemini LED light panels, (20) Hornet 200-C lights, ETC ColorSource control panel
Flash: (2) Godox AD400
White Cyc Stage
Flip-Q Teleprompter Software with 3 teleprompter monitors on studio cameras
Green Screen
Reflecta Gray Screen
Two-stage boxes featuring (8) audio input channels and (8) audio output channels
Paper Backdrop Rolls: Cardinal, Black, Blue, Red
Big Screen Monitor
C-Stands & sand bags
Flags
White display boxes
Crane Camera Dolly
(4) Monopods
(2) Tripod
Mobile LED Light Kit
Intercom System
GMV Motorized Camera Slider
Portable Changing Room
Professional podcasting setup featuring high-quality microphones, cameras and digital mixer. Personalize your recording with customizable LED lights. Perfect for podcasting and high-quality audio recordings. Capable of hosting remote guests via Zoom.
Talent table
(3) Microphones
(3) Marshall Cameras
(3) Audio Technica Headphones
Big Screen Monitor
Additional Audio Recording Equipment:

Wireless Lavalier Microphone
(16) Microphone StandsExtron Program Control
(7) Lavalier Microphones
Three Beta 57A Microphones
Beta 52A Microphone
Shotgun Microphone
(2) AKG Microphones
(4) Shure Beta Microphones
Record a multi-camera production in the large studio with ease in the large studio control room. The switcher allows you to transition cameras, insert graphics and more to elevate your production.
Blackmagic ATEM Switcher
Behringer X32 Mixer
Clear Com Headsets
Blackmagic HyperDeck Recorders
Blackmagic Camera Control Panel
Large Monitors
Mac Pro
Davinci Resolve Studio
Audio Creative Suite
Behringer X32 Mixer
Marshall Camera Control Panel
Extron Control Panel
Blackmagic Hyperdeck Recorder
Laptop with Zoom for remote guest
Experience simplicity at its best with our one-button record studio. With just a single press, you can effortlessly start and stop your recording, making it incredibly user-friendly. Record a pitch or presentation using the reflecta green screen to customize the background.
Extron Control Panel
Extron Recorder
2 Lavalier microphones
2 Personal mixers
2 Headphones
Reflecta Gray Screen
Dell PC
4 Editing Computer Stations:

DaVinci Resolve Studio
Adobe Creative Suite
Microsoft Office Suite
Headphones

Video Editing Suite:

Mac Pro
DaVinci Resolve Studio
Adobe Creative Suite
Marshall Monitor
Wacom Tablet

5.1 Audio Editing Suite:

Mac Pro
DaVinci Resolve Studio
Adobe Creative Suite
Behringer X32 Mixer
Mackie Studio Speakers
Headphones
Not sure where to start?
Try a free Makerspace workshop — Photography 101, Podcasting 101, and Video Editing 101 — to get hands-on experience with the equipment.
Reserve studio time and editing bays
You have two convenient options: you can either reserve a studio space through the links below to view available times and book. Or fill out the form at the bottom of this page for more information or to ask a question to the studio supervisor.
Please note that our studio spaces and editing rooms may only be reserved for their intended purpose, which is recording audio/video or editing. They are not available for use as general meeting rooms or computer lab space. 
Makerspace Reservation: Digital Media Studio